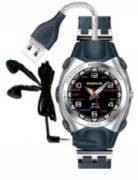 The Xonix MP3 Player Watch is one of the first high quality MP3 Player watches on the market; featuring a high tech Japanese movement along with a built in MP3 and WMA player. With up to 256MB of memory, a graphic equalizer and 3D Stereo sound, it's the perfect way to keep all your favourite music at your fingertips. The of internal memory will allow you to store around 120 songs (WMA format @ 64kbps). The manufacturer has even been able to squeeze in a Digital Voice recorder, so you can use the watch for recording memos on the move!
The Xonix appears as a Removable Disk Drive when connected to your PC; supporting drag and drop of files. Along with a built in microphone, and a battery life of eight hours for the player (which re-charges through its USB port which is integrated into the watch strap). There's an array of neat LED lights on the face that signal the different operations, and of course the watch continues to operate when the battery life of the MP3 has run down and needs re-charging.
The Xonix MP3 Player also works as a USB mass storage device, so you can carry data files (word documents, text files etc). The MP3 Player Watch works with both PCs and Macs.
The Xonix MP3 Player Watch is the perfect gift for a gadget enthusiast and ideal for jogging / exercising (it's supplied with surprisingly good quality headphones with an extra long headphone lead). Remarkably, it's one of the best sounding MP3 player's we've had the pleasure of listening to - the sound quality is powerful, crisp and vibrant.
Seen the Xonix MP3 Player Watch cheaper elsewhere? Try our price beat policy - we will try to price beat any other UK website.

Also available - Gameboy Flash Cards
Rewritable gaming for your GBA from just £39.95



© 2005 www.mp3watchshop.co.uk, All Rights Reserved.